Islands Dispute Heats Up as Military Exercise Looms
---
October 30, 2012
Chinese and Japanese ships have traded angry words on the high seas yet again in an ongoing dispute over territorial rights to a group of islands in the East China Sea.
In the latest encounter, ships from both countries flashed signals to the other side, demanding that they leave the area. No shots were fired, and the ships eventually backed off in separate directions.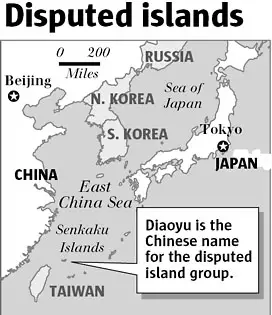 The eight islands, which are uninhabited, are known as Diaoyu in China and Senkaku in Japan. Taiwan has also laid claim to the islands, which have rich deposits of natural gas and minerals and are surrounded by waters rich with marine life. Japan laid claim to all of the islands a few weeks ago, sparking the escalation. Japan's ownership goes back to the early 20th Century. Claims from China (and, by extension, Taiwan) go back centuries.
Japan's claim to full ownership sparked large demonstrations in a few Chinese cities, as well as angry words from the Chinese government and aggressive maneuvers from Chinese ships. Trade between the two countries has suffered as a result.
Japan also announced that from November 5-16, it would have a joint military exercise with American troops. The exercise is a regular, twice yearly, affair.
Custom Search

Social Studies
for Kids
copyright 2002-2014,
David White
---