Chinese Ships Ignite Fresh Dispute over Islands
---
October 25, 2012
After three weeks of relative quiet, the dispute over islands between China, Japan, and Taiwan is heating up again.
Four Chinese surveillance ships entered the waters surrounding the East China Sea islands (called Diaoyu in China and Taiwan but Senkaku in Japan), a week after Chinese and Japanese officials met in Shanghai to discuss the ownership dispute. The Japanese government claimed ownership of all of the islands in September, causing mass demonstrations across China and sharp words from the Chinese government. China's claim to the islands extends back centuries (and Taiwan's claim is attached to that). Japan occupied the islands fully (along with a large part of China itself) early in the 20th Century and through the end of World War II.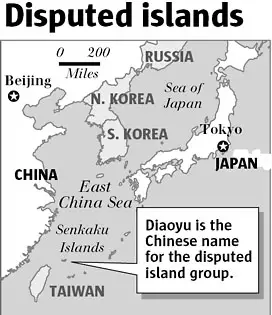 In the latest naval dispute, Chinese ships had entered what Japan considers its territorial waters and initially refused to leave. Ships from China had been in the area outside Japan's claimed 22-kilometer zone around the islands.
Both the Chinese government and the Japanese government have reported observing sharp escalations in each other's aircraft flying over the area. Both China and Japan claim airspace over and near the islands as well.
The islands are surrounded by waters rich with fish and sea life, and natural gas has recently been discovered under the islands' surface.