Japan, Taiwan Trade Water Cannon Shots over Disputed Islands
---
September 25, 2012
The dispute over islands in the East China Sea has heightened, with Japanese and Taiwanese ships firing water cannons at one another.
The tiny uninhabited islands, called Diaoyu by China and Senkaku by Japan, are at the heart of a dispute over territorial waters and oil and gas reserves. Japan has administered the islands since 1972, after winning control of them during war with China in the 19th Century and then losing control of them during war with the U.S. in World War II. China has laid claim to the islands off and on since the 14th Century. It's not entirely clear how solid Taiwan's claim is to the islands, except that Taiwan was most recently settled by those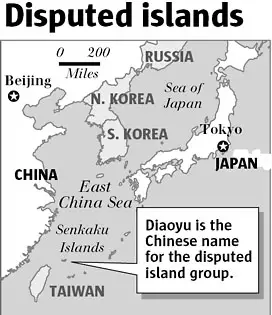 escaping the Communist takeover of China in the early and mid-20th Century.
Nonetheless, Taiwanese fishing boats and coast guard vessels were in the area, and the result was the joint water cannon fire. Taiwan and Japan are generally on good diplomatic terms.
The dispute began in earnest two weeks ago when the Japanese government purchased a few of the islands from private owners. Resulting actions in China have included informal boycotts of Japanese products and street protests, some of which have turned violent. A more hard-hitting tactic has been the wholesale cancellation by Chinese travelers of airline tickets on flight to Japan. Japanese airline JAL reported that cancellation of more than 15,000 seat reservations for a two-week period in October.
Chinese ships are in the area but have refrained from active confrontation with ships from either Taiwan or Japan. Top ministers from China and Japan have met at China's Foreign Ministry. No resolution to the dispute has been reached.