Chinese Ships Circle Disputed Islands
---
April 24, 2013
Tensions remain high in a dispute over a group of uninhabited islands in the East China Sea, with the latest spat incorporating a survey mission from one country and a fleet of ships from another country.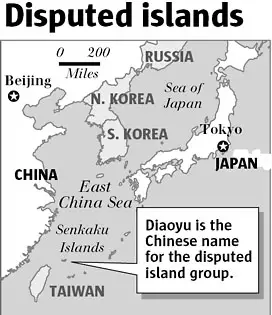 China calls the islands Diaoyu. Japan calls the islands Senkaku. The tiny islands, of which eight have prominence, are uninhabited but are rich in minerals and gas and are surrounded by waters rich in fishing opportunities. Both countries, and Taiwan, claim ownership of the islands, pressing claims dating back hundreds or thousands of years. (The latest row began when private Japanese citizens sold the largest of the islands to the Japanese Government.)
Last month, China announced plans to send a team of people to do a survey of the islands. Japan reacted with a warning. The latest dispute was a reverse of roles, with a group of Japanese activists doing their own survey of the islands and Chian sending in eight surveillance ships in response. The Chinese ships crossed into Japanese territorial waters, but the Japanese response was not a "hot" one, despite earlier warnings to the contrary.
The dispute is one part of an ongoing diplomatic and economic row between the two countries. Earlier protests against Japanese actions resulted in a sharp downturn in Japanese sales in China. Since then, ships belonging to the three countries have routinely traded angry messages, air patrols of one another's sea forces, and even blasts from ship-borne water cannons.
The Chinese naval presence was its largest since the dispute began.
Social Studies
for Kids
copyright 2002-2014,
David White
---