China, Japan, Taiwan Get Testy over Disputed Islands
---
September 24, 2012
A dispute between China and Japan over a territorial waters surrounding a group of tiny islands has intensified with the arrival of ships from Taiwan.
The islands, called Senkaku by Japan and Diaoyu by China, are in the East China Sea. (Both names mean "fishing" in their respective languages.) The recent purchase of the islands by the Japanese government has inflamed an old dispute, with large groups of anti-Japan protesters taking to the streets in cities across China.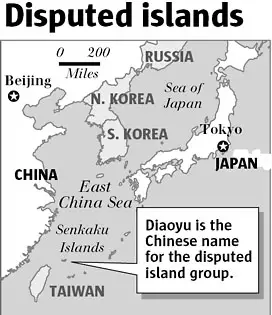 The islands, which are uninhabited, are surrounded by waters filled with fish and could potentially harbor large reserves of oil and gas.
In recent days, Chinese ships and Japanese ships have patrolled the area around the islands, with warnings from both governments to steer clear of anything provocative like warning shots. The dispute has echoes of repeated armed disputes between the two countries, most recently Japan's occupation of a large part of China during World War II.
The two countries are pursuing high-level diplomatic solutions, including a visit to China by Japan's Foreign Minister, Chikao Kawai, who will meet with his Chinese counterpart, Vice Foreign Minister Zhang Zhijun. Both countries are in the midst of other diplomatic issues as well: Japan's government is up for re-election in a few months, and China's government is in the middle of a power handover involving the resignation of President Hu Jintao as early as next month.
Now in the mix is Taiwan, which also claims ownership of the tiny islands. Dozens of Taiwanese boats were headed for the area, with intentions unclear. The boats weren't warships, though. They were mostly fishing boats, with a few Coast Guard escorts.
However, the introduction of Taiwan into the dispute is problematic because that country and China are on terse diplomatic terms and have been for many years. On the other hand, Taiwan and Japan have maintained mainly friendly relations in recent years.
The United States controlled the islands from 1945 to 1972, when the U.S. handed control to Japan as part of a wider handover of land seized during World War II. After victory over China in the First Sino-Japanese War, Japan controlled the islands from 1895 to 1945. A Japanese fish processing plant was in operation on the islands from 1900 to 1940. China's claim to ownership of the islands goes back to the 14th Century.