China Names New Leaders, All Conservative
---
November 16, 2012
As expected, Xi Jinping will be the new leader of China, as confirmed by the 18th Party Congress in Beijing.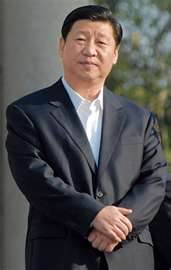 Xi, the leader-in-waiting since 2007, has close ties to the military and is a former Shanghai Party boss. He was also named head of the Communist Party's top military committee.
The Congress also named six other members of the Politburo Standing Committee, decreasing the number from nine to seven. Li Keqiang was named deputy leader. The other five members are all over the age of 64, meaning that they will have to retire by the next Party Congress, in 2017.
Observers view the new leaders as politically conservative. The seven were chosen from a final number of 10. Those not chosen included the only female candidate and two male proponents of reform.
Xi, whose wife is the popular folk singer Peng Liyuan, will serve as head of the Communist Party and head of the government for the next decade but only after the term of Hu Jintao, China's current leader, ends in March 2013.
Hu presided over a decade of massive economic growth. China's economy has, however, slowed down in recent months, long after the rest of the world sunk into a global recession but still dragging a bit behind the past few years. The country has also seen noticeable if sporadic episodes of civil unrest, most notably in the recent (and ongoing) dispute with Japan over a group of islands in the East China Sea.
The Party Congress, made up of about 2,700 delegates, also named members of the lower-ranking Politburo Standing Committee.
Custom Search
Social Studies
for Kids
copyright 2002-2014,
David White
---