Chinese Party Congress Gathers for Government Handover
---
November 7, 2012
China's Communist Party Congress will last a full week, the Government has announced. At the Congress, Vice President Xi Jinping is expected to be named President, succeeding the retiring Hu Jintao.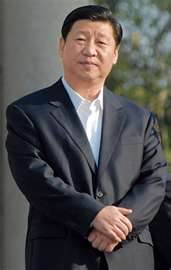 Jinping, recently named secretary-general of the Congress, has been Vice President since 2008. Hu, who gave a major speech at the Congress, has been President for 10 years.
The Party Congress, the 18th in the country's modern history, takes place every five years in the Great Hall of the Palace, a massive building next to Tiananmen Square in Beijing, and is largely a formal process, resulting in the election of new members to key party committees, including the highest-ranking one, the Politburo Standing Committee. A total of 2,720 delegates, many of them cabinet ministers or top military generals or mayor of major cities, will elect about 370 members to the party's Central Committee. Members of that committee, in turn, will elect the large handful of members of the Politburo, which, in turn, names the small handful of members of the Politburo Standing Committee.
The Congress will also make several other appointments, including governors, party chiefs of provinces, and even heads of state-owned enterprises.
Whether the Congress enacts any economic or political reforms remains to be seen. Observers say that the Party Congress generally concentrates on internal matters, like committee membership, rather than making sweeping changes in the way the Government does business. Security around the meeting and the hall are incredibly tight.
Recent reports, however, suggest that the economy, the second-largest in the world, is slowing down. The most recent report showed that economic growth was at the lowest rate per quarter since 2009, at the height of the global recession.
Custom Search
Social Studies
for Kids
copyright 2002-2014,
David White
---