Billionaire Unveils Plans for Chinese Hollywood
---
September 24, 2013
A Chinese billionaire played host to some of the world's most famous faces in unveiling plans for a Chinese version of Hollywood.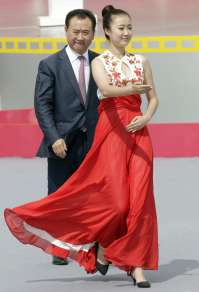 Wang Jianlin, widely believed to be China's richest man, announced his vision for a massive film studio complex in Qingdao, a city in the northeast part of the country. The Qingdao Oriental Movie Metropolis will have 20 studios, including one studio that is permanently underwater.
Among the A-list actors on the red carpet were Leonardo DiCaprio, Nicole Kidman, Tony Leung, Jet Li, Ewan McGregor, John Travolta, Catherine Zeta-Jones, and Zhang Ziyi.
Jianlin said that the complex would also include an IMAX research and development center and what he says would be the world's largest stage, at a size of 108,000 square feet. Other planned attractions include a film museum and a celebrity wax museum. Jianlin aims to attract dozens of production companies from around the world and hopes to shoot several dozen films a year in the new complex.
The complex, the first phase of which is planned to open in June 2016, will be completed by June 2017, Jianlin said. The cost of the complex is estimated at 50 billion yuan, or $8.2 billion.
Jianlin's company, Dalian Wanda Group, also owns hotels, department stores, and other cinemas throughout China and also bought American movie theater chain AMC in 2012.
Qingdao, a city of 8.7 million in Shangdong province, is known as a major seaport and is home to the world's largest sea bridge, the Qingdao Haiwan Bridge, which stretches for nearly 26 miles.
China recently passed Japan to become the world's second-highest in movie ticket sales, behind the United States.
Custom Search
Social Studies
for Kids
copyright 2002-2014,
David White
---