Archaeologists are not bent out of shape at the discovery of a 250-year-old pretzel. On the contrary, they're quite excited.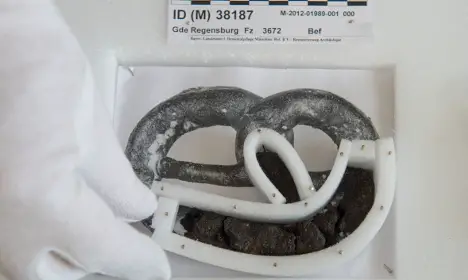 The pretzel is burnt, actually, the result of either a building fire or an act of baker's frustration. Also found during an excavation in the German city of Regensburg were the charred remains of other baked items, including a bread roll and a croissant.
Carbon dating showed that the baked items dated to between 1700 and 1800, according to Silvia Codreanau-Windauer of the Bavarian State Department of Monument and Sites.
The charred food remains are to be installed in a planned historical museum in Regensburg. The German state is also the site of a discovery of a wooden site thought to be up to 1,200 years old.
The pretzel itself is thought to be a German invention, dating to the 7th Century.