Oakland's Cat Cafe a First in the U.S.
---
October 26, 2014
America has a cat cafe. It's called the Cat Town Cafe, and it's in Oakland, Calif.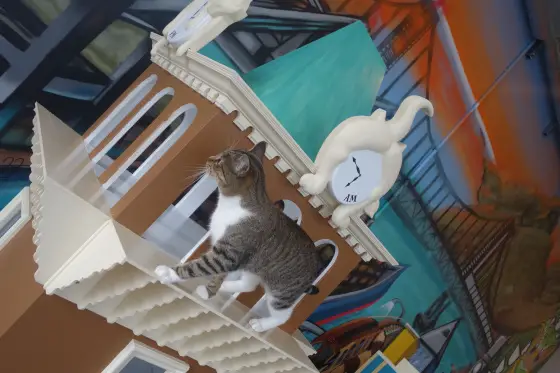 The downtown cafe is a combination of food and drink purveyor and feline rest area. Human customers are, of course, allowed to bring their cats with them. Cats can lounge on their humans' laps in a special area decked out for cats' pleasure, including models of some of the city's well-known buildings, including the iconic Tribune Tower. Murals of the San Francisco Bay Area cover the walls.
Naturally, rules have to be followed, specifically building code rules. Although humans can accompany their cats to the cat zone, cats cannot return the favor. As well, the people who work in the cafe cannot work in the cat zone, and vice versa. Further, the ventilation system is of the one-way variety, such that air from the cat zone does not get filtered into the human part of the cafe.
Cat cafes have opened in other countries, notably Australia, France, and Japan. Oakland's version, funded in large part through a Kickstarter campaign, is the first in the United States.
Custom Search
Social Studies
for Kids
copyright 2002-2014,
David White
---