---
Byzantine 'City Map' Mosaic Restored for Public Viewing

On This Site
Share This Page

---
Follow This Site



September 29, 2015
Back on display in Israel after 1,500 years of obscurity is a "city map" mosaic of an Egypt location.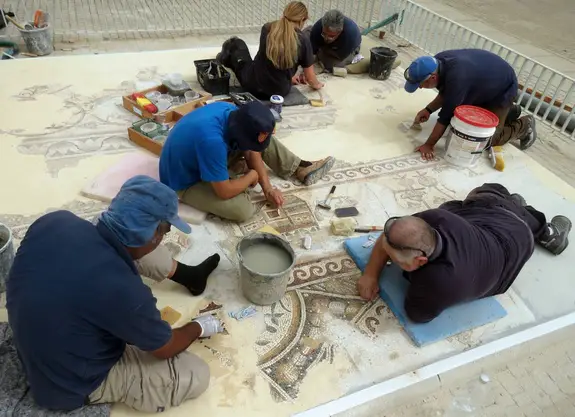 The mosaic, showing streets and buildings in a map-like arrangement, was once part of the floor of a church in Chortaso, Egypt, during the Byzantine period. Archaeologists discovered a Greek inscription that labeled the location, which the Hebrew tradition says was the burial site of the prophet Habakkuk.
Archaeologists found the mosaic two years ago in what is now a parking lot in an industrial area of the Israeli city of Qiryat Gat. Remains of the church building itself were scarce.
The painstaking restoration of the mosaic has revealed depictions of animals, a boat, buildings, roads, streets, and a goblet (right). The cityscape depictions, with buildings two and three stories tall, show balconies, galleries, roof tiles, and windows. In all, the mosaic features 17 colors of tile.
The archaeological team carefully removed the mosaic from its discovery point in order to complete the restoration. The mosaic will be back where it was found and on public display soon, as part of a festival at the industrial park.