Help with Road Repair, Get a Reward
---
March 23, 2010
You, too, can own a piece of the streets.

Officials in the small German town of Niederzimmern have begun a program that offers a bit of a legacy for people who give the town money to help cover a pothole: their name on the road. That's right, pay your pay 50 euros ($68), and the town will create an inscription listing your name, as the person who gave the money to cover that hole in the road.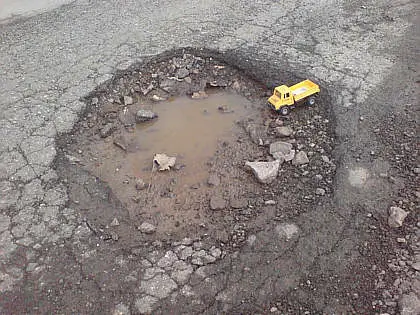 The small town in the eastern state of Thuringia announced its road repair scheme recently, in response to what many observers are calling one of the worst winters in many years. Well into spring, many roads in Europe have been covered in snow and ice. Many German roads are thought to have suffered serious damage as a result of the persistent snowfall. Cash-strapped towns have spent more money than ever before on snow removal, leaving little left over to repair the holes caused by the heavy snow and ice.

That's not a problem for the town of Niederzimmern, as long as its citizens front up with the money to cover the costs – and the road. It's not exactly your name in lights, but you can certainly have fun showing your friends.
Click here for more.

Social Studies
for Kids
copyright 2002-2014,
David White
---