World's Tallest Building Soars into the Sky
---
January 6, 2010
It rises 2,717 feet (828 meters) into the sky. It is the new tallest building in the world, the Burj Khalifa, and it now graces the skyline of Dubai.


Fireworks (thought to have numbered 10,000) and celebrations highlighted the official opening of the building.

The skyscraper has 162 floors. An observation on the 124th floor allows a 360-degree view of the city. Building began in 2004, total costs exceeded $20 billion, and up to 12,000 people in total worked on the skyscraper.

Among the records set by the Burj Khalifa: highest mosque (158th floor) and highest swimming pool (76th floor).

Long known as the Burj Dubai, the building now boasts a new name, a last-minute change to honor Sheik Khalifa bin Zayed Al Nahyan, the ruler of Dubai's neighbor Abu Dhabi, which helped stimulate the ailing Dubai economy with $1.5 billion in the past year. Like many other countries around the world in 2008 and 2009, Dubai suffered from the world financial crisis. For example, property prices in the sheikdom (one of seven that make up the United Arab Emirates) dropped by nearly 50 percent in 2009.

The Burj Khalifa is more than 1,000 feet taller than the second-tallest building, Taipei 101, which stretches 1,667 feet high. Chicago's Willis Towers, at 1,451 feet, is America's tallest building. That building and the Burj Khalifa were designed by the same company, Chicago-based Skidmore, Owings & Merrill, which has also designed some of the world's other tall buildings. Samsung C&T, of South Korea, was the primary builder of both Burj Khalifa and Taipei 101.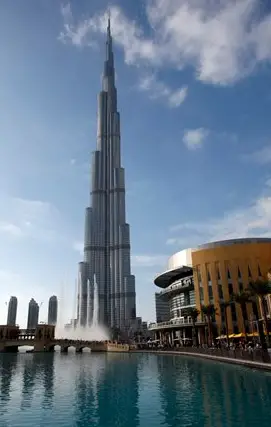 ---

Social Studies
for Kids
copyright 2002-2014,
David White
---