Happy Couple First Met When They Were Born
---
June 2, 2010
Sometimes, Love at first sight? Not entirely, although the couple have known each other since birth, even if they probably don't remember the day they met.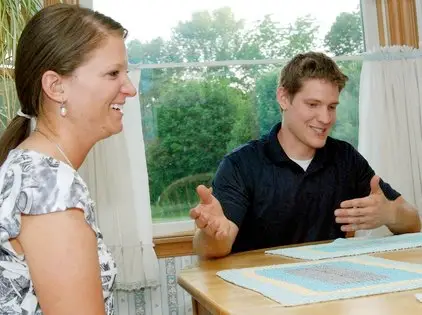 Amy Singley and Steven Smith were born on the same day (along with Steven's twin brother, Scott) in the same hospital. Now, 24 years later, they are to be married, having known each other all their lives and enjoyed being a couple for several years.

It was April 17, 1986, when Amy's mother, Janis, arrived at St. Luke's Hospital in Fountain Hill, Pa. Also arriving at that hospital on that day was Jacqueline Smith. After they gave birth, the mothers shared a room for a time. Then, the hospital sent mothers and children to their respective homes so that they could get on with their respective lives.

Except they kept seeing one another. The two families lived in the same town — Easton, Pa. — and attended the same church, what was then St. Joseph Catholic Church and is now Our Lady of Mercy, the result of a merger with neighboring churches.

The three children kept celebrating the same birthdays. When they were high schools sophomores, Steve asked Amy to go see a movie with him. They liked each other enough to have another date, and another, and another. They attended the same university, Millersville (Pa.) University.

Now, Steve works as a sales representative for a food company. Now, Amy works as a learning support teacher at a middle school.

Now, they are getting married.

Some people who know them say it was fate that they liked each other enough to get married. Other people say that the couple just seem natural together.

The story has certainly captivated many people, including news reporters. The couple and their respective parents have been fielding calls from newspapers and TV news organizations.


Social Studies
for Kids
copyright 2002-2014,
David White
---