Bob Hope 'Spaceship' House Up for Sale
---
March 11, 2013

A futuristic-looking house once owned by legendary American entertainer Bob Hope is on the market.
Hope's daughter, Linda, has announced the sale, at $50 million. The 23,000-square-foot house has six bedrooms, 10 bathroom, and three half-bathrooms. The property includes a tennis court, a putting green, a pond, and two pools, one of which is shaped in the profile of Hope himself. An open-air courtyard enhances the look, which resembles a spaceship.
The house, completed in 1980, is in Southridge, Calif., near Palm Springs, and overlooks the San Jacinto mountains. Hope considered the house one of his favorites and a place where he and his wife, Dolores, entertained often.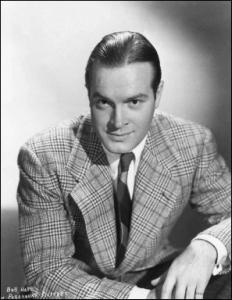 John Lautner, a famous architect, provided the original blueprints, but Hope added on to his own design in later years.
Hope died in 2003 after more than 70 years as an entertainer. Possessed a large number of talents, he was known for his quick wit, his acting and singing and dancing, his wartime with the United Service Organizations (USO), and his being host of the Academy Awards (which he did 14 times). He is recognized by the Guinness Book of Records as the world's most-honored entertainer.
Social Studies
for Kids
copyright 2002-2014,
David White
---