Bob Hope: Entertainer for the Ages
---
Part 2: Fame and Laughter
In 1934, he met Dolores Reade, a nightclub singer. They married the next year. They were still married when Hope died, and their four children survive them.
One of his most famous movie partnerships was with the legendary singer Bing Crosby. The two of them appeared, along with Dorothy Lamour, in the famous "Road Pictures," a series of movies that varied the setting but not the plot: Two men take turns poking fun at each other and chasing the same woman. Older members of your family might recognize a few of these movie titles: Road to Utopia, Road to Singapore, Road to Zanzibar, Road to Morocco.
It was in the wartime decades that he made perhaps his most famous mark on the world stage. He went on countless tours of places where American troops were stationed, in World War II, the Korean War, the Vietnam War, and the Persian Gulf War. He played his first camp show at California's March Field on May 6, 1941, seven months before Pearl Harbor. He went to bases, field hospitals, jungles and aircraft carriers. In all these places, he entertained troops, many times very near battlefields. His mission was to raise the morale of the troops through laughter and goodwill, and thousands of veterans can report that he did that with flying colors.
He was also famous for the television specials, almost 300 of them during the next 40 years, with famous people jockeying to get an appearance on what was consistently one of the most highly rated shows on TV.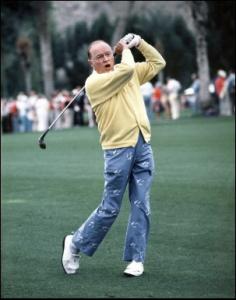 He was also quite a famous golfer, lending his name to one of the most famous and well respected professsional golf tournaments, the Bob Hope Golf Classic.
Hope received 49 honorary degrees and more than 700 awards, including Presidential Medals of Merit. He was an honorary knight of Great Britain and a Papal Knight of the Vatican. He finally received an honorary Oscar award in 1952 "for his contribution to the laughter of the world." He ultimately received two more Oscars, both honorary.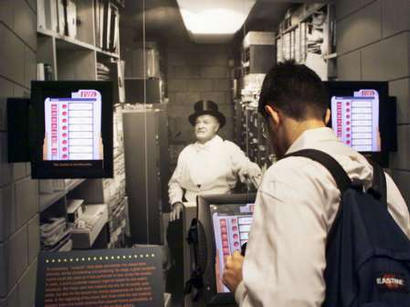 The Library of Congress contains 88,000 pages of jokes delivered by Hope, in his 70-plus years of entertaining.
Bob Hope's Aunt Polly used to give the young boy cookies when he would do something funny. "Always leave them laughing," she would tell him. He followed her advice very well.
First page > Beloved Entertainer > Page 1, 2
---
Custom Search

Social Studies
for Kids
copyright 2002-2014,
David White
---