Bob Hope: Entertainer for the Ages
---
Part 1: A Beloved Entertainer
The death of Bob Hope, on July 27, didn't catch many people by surprise, but millions of people are still saddened by the passing of one of the world's most beloved entertainers.
He had just a few months ago reached his 100th birthday. Frail and hard of hearing, he nonetheless reveled in the attention he got from fans around the globe.
American flags were flown at half-staff on July 28 at the White House and at institutions across America. President Bush led the nation in mourning a man that many have called "the greatest comedian ever."
The vast majority of today's comedians say that Hope was their inspiration and that his delivery of his trademark one-liners was second-to-none. He was a frequent of Hollywood's Academy Awards, and he poked fun at his never winning by saying, "Welcome to award night! In my house it's known as Passover."
A public memorial service is planned for Aug. 27, along with a special tribute for Hope at the Academy of Television Arts and Sciences, the sponsor of the Emmys.
He was born Leslie Townes Hope on May 29, 1903 in Eltham, Kent, in England. He was the fifth of seven sons of a stonemason. The family moved to Cleveland, Ohio, when young Leslie was 3.
The boy soon found that his first name was the target of testing from other kids, so he changed his name to Lester and then to Bob. He made his way through the American school system, then left it for Vaudeville. (He also had a brief stint as a boxer, under the name Packy East: "I was on more canvases than Picasso," he once said.)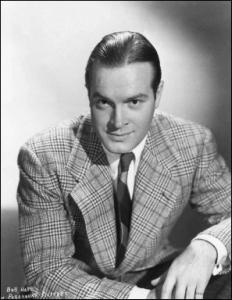 In the 1920s and 1930s in America, Vaudeville was a series of traveling theater shows, featuring live stage acts like singing and dancing and comedy skits. Hope did all of them, traveling around the country and making a name for himself as a well-rounded entertainer.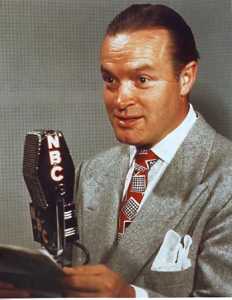 He was most successful for his comedy, however, and he turned to radio and movies to further that career. In 1934, he began a weekly radio program that would be on for a great many years. In 1938, he appeared in his first movie, The Big Broadcast of 1938. It was in that movie that he sang the song that would become his trademark: "Thanks for the Memories."
Next page > Fame and Laughter > Page 1, 2
---