Giant Rubber Duck Thrills Taiwan
---
September 20, 2013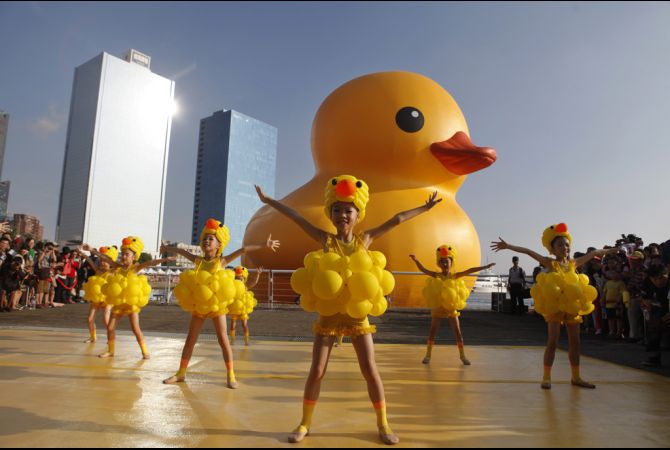 A giant duck has captivated crowds of people in Taiwan.
Thousands of people, including some dressed accordingly, welcomed the giant art work to Kaohsuing harbor.
The duck, which is 59 feet tall and weighs 1,300 pounds, is the creation of Dutch artist Florentjin Hofman. The giant floating rubber art work will remain in Kaohsuing until October 20, and then travel to other Taiwanese cities.
The duck, which resembles the rubber duck familiar to millions of bath-takers, doesn't have a name. Versions of the duck (Hofman built several) have appeared in other cities as well in recent years. The tour began a few years ago, when Hofman launched a world tour titled "Spreading joy around the world." The duck tour began in Amsterdam and continues. Cities to play host to a version of the duck include
Saint-Nazaire, France
Sao Paulo, Brazil
Osaka, Japan
Auckland, New Zealand
Onomichi, Japan
Hasselt, Belgium
Sydney, Australia
Hong Kong, China
Beijing, China
Baku, Azerbaijan
Pittsburgh, Pa.
Hofman is known for his giant public art works. Previous art works include a giant yellow rabbit, from a exhibition in Sweden, a giant crow, at the Nauurmuseum in Leeiwarden, and giant paper boats, in Rotterdam, the Netherlands.

Custom Search
Social Studies
for Kids
copyright 2002-2014,
David White
---