Huge Chocolate Bar Sets World Record
---
September 13, 2010
Mark October 16 on your calendar.

That's the date that the Grand Candy factory will hand out pieces of the world's largest chocolate bar. The bar, made by willing workers to commemorate the company's 10th anniversary, measures 224 inches long, 110 inches wide, and 10 inches thick. (For those of you who deal in metrics, that's 560 centimeters by 275 centimeters by 25 centimeters.) That's a lot of chocolate.

The chocolate bar, containing cocoa beans from Ghana, weighs in at 9,702 pounds (4,410 kilograms). Every single pound (or gram) of it has been sanctioned by the Guinness Book of Records.

No word yet on how the company plans to store the bar or keep it for the four weeks until the ceremony.

Oh, one more thing: The company is in Armenia, in the capital city, Yerevan.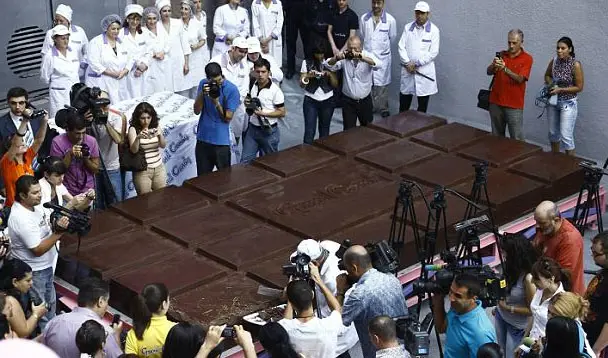 Social Studies
for Kids
copyright 2002-2014,
David White
---