PLO Leader Yasser Arafat Dead
---
November 12, 2004
Yasser Arafat, the controversial, visible, and vocal leader of the Palestine Liberation Organization, died of an undisclosed illness at a military hospital outside Paris early November 11, 2004. He was 75.
The longtime leader of his people who strove his entire life to deliver to them an independent Palestinian state ultimately failed to see his efforts succeed in his own lifetime. Whether he laid the groundwork for success in the next generation is left to be seen.
Medical officials have not announced the cause of death. Arafat had been very sick for some time and had been in a coma for several days before he died. He was effectively existing only on life support for the last hours of his life. Some reports said that he was suffering from a blood disorder.
He was flown to Paris on October 29, after nearly three years of living in his headquarters in the West Bank town of Ramallah, surrounded by Israeli tanks. That development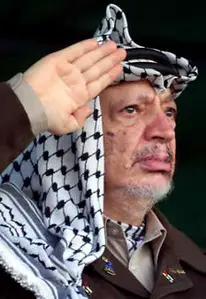 was among the latest in a long line of events in the ongoing dispute between Israelis and Palestianians over who should control such Middle East lands as Jerusalem, the Gaza Strip and the West Bank.
A leader in symbol and spirit to the Palestinian people, Arafat was also a stubborn and proud man who wanted the best for his people and refused to budge on matters that others considered necessary for moving the peace process forward. In the weeks before he died, he was the target of takeover attempts within the Palestine Liberation Organization (PLO), which he took over in 1969. Former Prime Minister Mahmoud Abbas has been elected to take Arafat's place at the head of the PLO.
Reaction around the world was mixed. Yitzhak Rabin, the Prime Minister of Israel, said he was sorry that the Palestinian people had lost such a leader. U.S. President Bush, long critical of Arafat's methods, said that his death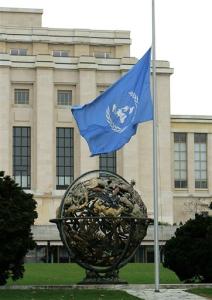 represented an opportunity for the peace process to move forward. French leader Jacques Chirac said that the Arab community had lost a good fighter. At the United Nations headquarters, in New York, the flag flew at half-staff and the General Assembly paused in mid-session for a moment of silence to honor Arafat's passing.
A funeral for Arafat took place in Cairo, at the city's airport. He was buried in Ramallah, his home. He leaves behind a wife, Suha, and a daughter, Zahawa.
Graphics courtesy of ArtToday
---