---
Anne Frank Poem Brings $148,000 at Auction

On This Site
Share This Page

---
Follow This Site



November 24, 2016
A poem written by famed World War II diarist Anne Frank has sold at auction for $148,000, far more than what was expected.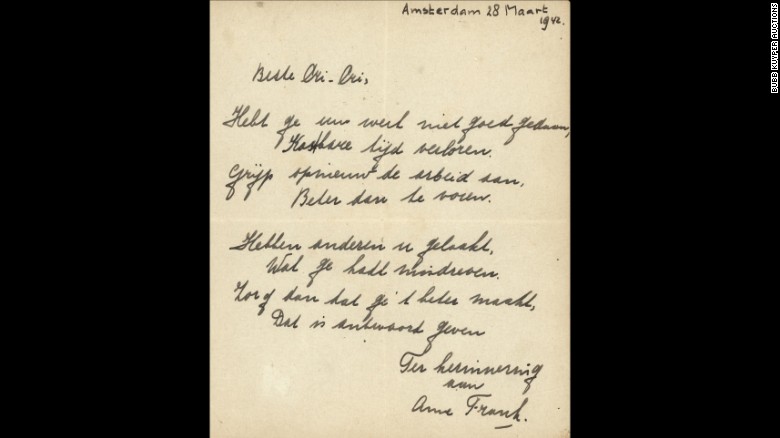 The eight-line poem, partially copied from a book Dutch children's poems, had a term of attribution, that of Christiane van Maarsen, whose sister was Anne's closest friend, Jacqueline.
Christiane died in 2006. She had torn it from her poezie album (a kind of diary and scrapbook) and given it to her sister in the 1970s.
Jacqueline put the poem up for auction with the Haarlem auction house Bubb Kuyper. The expected sale price was about $50,000. The buyer made the purchase online and wished to remain anonymous.
The poem has the date of March 28, 1942. Two days later, the German government ordered Jews in Germany and in occupied territory to wear a Star of David on their clothes. The Frank family went into hiding in July of that year.
The text of the poem is this:
Dear Cri-Cri, If you did not finish your work properly,
And lost precious time,
Then once again take up your task
And try harder than before.
If others have reproached you
For what you have done wrong,
Then be sure to amend your mistake.
That is the best answer one can make.
"Cri-Cri" was Anne's nickname for Christiane.
The first four lines of the poem are from a Dutch magazine and are themselves often cited as words of encouragement; the last half of the poem is in a different handwriting, and scholars think that Anne herself was the author.
Frank is perhaps most famous for her diary, which she wrote in while she and her family were in hiding. The eight-line poem is notable, scholars said, because it was something that she wrote before the family hid.