Massive Pharaoh Head Unearthed
---
March 1, 2010
The heads just keep on coming.

The Egyptian Supreme Council of Antiquities has announced a giant-sized find: a massive red granite rendering of the head of Amenhotep III. Archaeologists unearthed the man-sized head near the famous builder pharaoh's mortuary temple in Luxor, where they had also found other parts of the statue a few years ago. The face is remarkable, the archaeologists say, because of the lack of "de-facing" elements usually evident on such finds: chips, pockmarks, large chunks missing.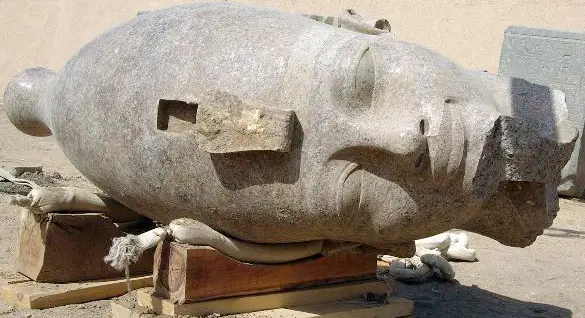 Little is left, however, of the famed mortuary temple, one of the finest examples of ancient Egyptian building, other than the massive statues of Amenhotep known as the Colossi of Memnon (below). The surrounding area, however, has proved fertile for finds of pieces of other red granite statues.

Amenhotep III was known as a benevolent ruler who presided over a relatively peaceful and prosperous period in ancient Egyptian history (1390–1352 B.C.). This enabled the pharaoh and his people to focus on building, which they did with a flourish. The famed Temple of Amen resulted from this time. Much of this temple can still be seen, including the relief showing the royal birth scene that purports to show Amenhotep's appearance directly from the presence of Amen, the king of the Egyptian gods. Other major buildings included a large temple at Soleb and the Thebes palace complex, which connected to the Nile via a huge artificial harbor.

Also contributing to the lasting fame of Amenhotep III is his bloodline. His son was Akhenaten, the famed one-god pharaoh who, with his wife Nefertiti, led a religious revolution. And a grandson of Amenhotep III was Tutankhamen, the famed "boy king" (who followed in his grandfather's footsteps by ascending the throne while young).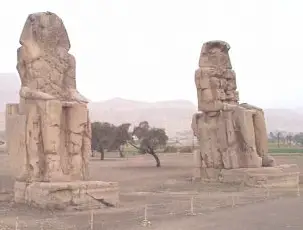 Social Studies
for Kids
copyright 2002-2014,
David White
---