New Clue Identified in Amelia Earhart Disappearance
---
July 6, 2014

A large piece of aluminum could be the key to solving the mystery of what happened to Amelia Earhart, the famed aviatrix who disappeared in 1937 while attempting to fly around the world.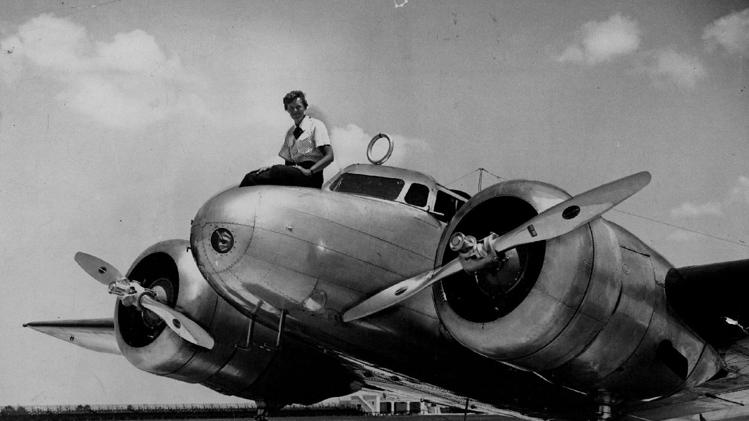 A photo taken in 1937 in Miami shows the aluminum bolted over a broken window. An expedition to tiny Nikumaroro Island (formerly Gardner Island) in 1991 found a similar piece of aluminum. Experts dismissed the connection at the time because the rivet patterns found on the aluminum didn't match ones on Earhart's airplane.
The metal plate appears in no other known photo of Earhart or her plane. The window had been installed especially so Noonan could use the Sun and stars for navigation. Experts think that the window was damaged on Earhart's flight from Oakland to Miami. The window appears in photos before the two landed in Miami, on May 24. The flight from Oakland to Miami was a rough one, and Earhart and her navigator, Fred Noonan, had stayed a week in Miami, seemingly for repairs. The recently unearthed photo was taken on June 1, just before she took off on what would be her last flight.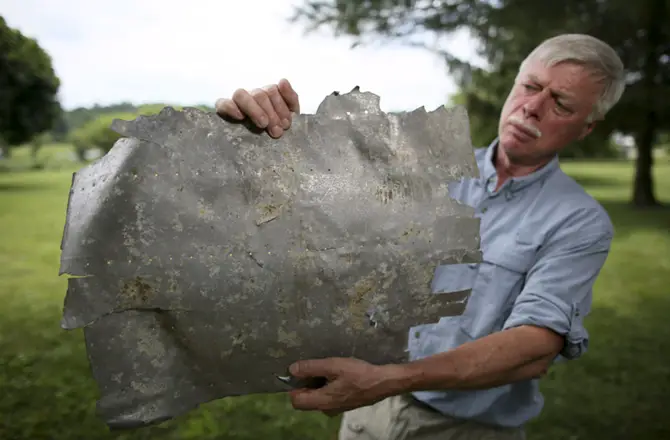 The latest theory, according to longtime Earhart investigator Ric Gillespie (holding aluminum sheet), the executive director of the International Group for Historic Aircraft Recovery (TIGHAR), is that the repairs were made in Miami, at a Pan Am facility, and that that explains why the rivet patterns were different from those on the plane, made by Lockheed. Gillespie is hoping to find proof with computer enhancements of that 1937 Miami photograph.
The fate of Earhart has captured the imagination of millions of people in the decades since she disappeared, on July 2, 1937. Theories have included an oceanic crash landing, a slow death by starvation on an uninhabited Island (like Nikumaroro), and the capture of Earhart and Noonan on suspicion of spying for the U.S. Government. Expeditions by TIGHAR and others have recovered some evidence that suggests to many that Earhart and Noonan crashed near the tiny island now known as Gardner Island and that they died there. Another recent historical photograph showed what looked to be an airplane much like Earhart's, in the water near Gardner Island. But no conclusive proof of any theory has yet been found.
To commemorate Earhart's last flight, a woman who shares her name is duplicating her intended feat, aiming for a happy ending. This Amelia Earhart (no relation) is due to touch down back in Oakland on July 12. She will also be one of the guests of honor at a festival to celebrate the original Earhart's 117th birthday, on July 19 in Atchison, Kan., where the original Amelia was born.
---
Custom Search
Social Studies
for Kids
copyright 2002-2014,
David White
---