New Amelia Earhart Finishes Round-the-world Journey
---
July 12, 2014

Amelia Earhart, a modern namesake of the famed pioneering aviatrix, completed the round-the-world flight that resulted in the disappearance of the original Amelia, landing back in Oakland after flying more than 24,000 nautical miles. Her mother, Deborah Dale, and her father, Glen Earhart, were there to meet her.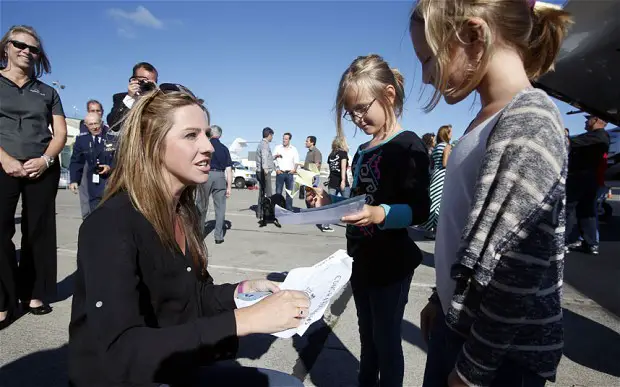 Amelia Rose Earhart, no relation to Amelia Mary Earhart, flew with her navigator, Patrick Carter, taking off from Oakland on June 21 and making 17 stops along the way, visiting Australia, Brazil, Tanzania, and Trinidad and Tobago, among others.
The modern Amelia, 31, lives in Denver and was until recently a traffic and weather reporter for a Denver television station. She now runs the Fly With Amelia Foundation, a non-profit promoting the flight school education of girls aged 16 to 18. Earhart herself earned her pilot's license when she was 21, after finding the money to pay for flight lessons by working multiple jobs while also going to college.
By completing the flight, the modern Amelia became the youngest woman ever to fly around the world in a single-engine aircraft.
The namesake Amelia was world famous in her day, becoming the first woman to fly solo across the Atlantic Ocean and advancing the cause of female pilots in the U.S. and elsewhere. With her navigator Fred Noonan, she took off from Oakland in 1937 on a journey that would have seen her return there. She never made it. Her disappearance is still a mystery.
Social Studies
for Kids
copyright 2002-2014,
David White
---