New Amelia Earhart to Trace Namesake's Round-the-world Path
---
March 10, 2014


Amelia Earhart will take flight again.
The namesake of the famed missing aviatrix will take off in June 2014 on a round-the-world flight, echoing what the first Amelia Earhart had set out to do before she disappeared in 1937.
The current Amelia Earhart will fly in a Pilatus PC-12 NG turboprop plane, making 14 stops in 14 days and covering more than 24,000 nautical miles on her trip, recreating the famed aviatrix's takeoff in Oakland and then returning there two weeks later. Her co-pilot will be Arkansas-based Patrick Carter.
Honeywell Aerospace has kicked in some advanced cockpit technology, so that every bit of the flight can be seen and heard as it happens and, of course, recorded for posterity.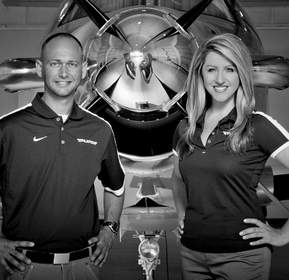 Earhart, a Denver TV news reporter and anchor, is a passionate flyer, having logged hundreds of hours in the air. In 2012, she used part of her training to recreate her namesake's transcontinental flight, from Oakland to Miami. She is not, however, related to the original Amelia Earhart.
The current Amelia is a member of the Ninety-Nines, an international group of women pilots, of which the original Amelia was a member. The current member was in July 2013 presented with the Amelia Earhart Pioneering Achievement Award, at the 17th annual Amelia Earhart Festival, in the original Amelia's birthplace, Atchison, Kan. A $10,000 grant accompanied the award, and the current Amelia has pledged this money toward helping other young women learn how to fly.

Social Studies
for Kids
copyright 2002-2014,
David White
---