Students Learn Through Ag Focus
---
February 18, 2013
A Kansas school uses real-world agriculture settings to help its student learn traditional subjects.
At the Walton (Kan.) Rural Life Center, 168 students in kindergarten through 4th grade look after cattle, chicken, pigs, and sheep and learn math, science, and economics in the process.
Students count up the chicken eggs in dozens, turn them over for sale, and then do addition and subtraction to track the money that comes in. Another example of agriculture-based mathematical learning comes in the form of calculating perimeter lengths of the pens in which the animals live.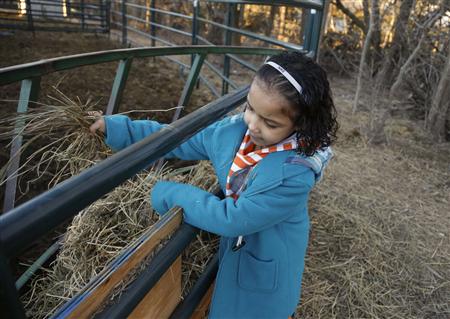 For science instruction, students learn all about the biology and life cycles of the farm animals. A wind turbine powers the school's greenhouse, where students tend to the vegetables that they eat themselves. Students study other forms of sustainable energy and have a special focus on recycling, including the use of composting to help greenery grow.
Economics lessons include the study of supply chains in the form of making yarn from sheep wool and the delivery for school lunch of pork that is made from the pigs that the students feed at the school.
Students see feeding the animals and tending to the vegetables not as chores but as opportunities for learning. It's all in a school day's work.
The town of Walton is a tiny one, at population 235. It is near the larger town of Newton, where the school district is. Because the Walton Rural Life Center is a charter school, it can set large parts of its own curriculum. The school still has to report student assessment results, however. Walton school officials report that student test scores have gone up in each of the past four years. If fact, Walton has reported a 100-percent rate of proficient or above on state assessment tests for three years running.
All of this has resulted in higher demand than the school can supply. School officials have a waiting list and are actively seeking funding to help build more classrooms. The U.S. Department of Education has noticed as well, producing an eight-minute video about the school that resulted in much interest from other states.