Massive African Statue Celebrates Freedom
---
April 5, 2010
Dakar was a city on the edge.

The capital of Senegal was the scene of a gathering of many heads of state, to attend the unveiling of a giant statue to honor the 50th anniversary of the country's independence from France. The city was also a hotbed of protest, as thousands of people marched in protest to the statue and to its sponsorship by President Abdoulaye Wade.

The leaders of nine other African nations attended the ceremony, as did a delegation of African-Americans, including the Rev. Jesse Jackson. On the streets, the protesters marched and called for Wade to step down. Riot police were brought in to keep things under control.

The sculpture, at 50 meters tall, stretches higher into the sky than the Statue of Liberty (if the base isn't counted.) The name of the sculpture is African Renaissance. It has three figures: A man holds onto a woman while holding a child in an outstretched arm.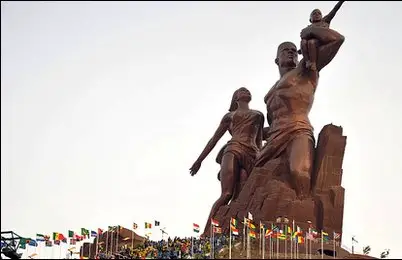 Wade hopes that people will come from all around in order to get an up-close glimpse of the statue.

The protesters were angry at the government's policies and at the statue itself, which they say represents money that could have been spent on other things in the country, including local wages. (The statue was built by North Koreans.)

Social Studies
for Kids
copyright 2002-2014,
David White
---