Schools Getting Jump on New Food Guidelines
---
August 20, 2012
The sodium and calorie limits mandated for school meals by the U.S. Department of Agriculture are about to kick in, and schools are taking up the challenge.
The limits are part of the largest overhaul of national school meal guidelines in more than a decade. Among the particulars:
all meals must be free of trans fats
flavored milk must be nonfat milk
at least once a week, vegetables must be orange, red, or dark green
at least once a week, beans or other legumes must be on the menu
rice must be brown
cereal, pasta, bread, and pizza must have whole grain listed as the No. 1 ingredient.
An estimated 32 million American schoolchildren eat school-provided lunches every day. The number eating school-provided breakfasts is thought to be 11 million.
Many schools around the country are anticipating the changes, which take effect in the fall, by revamping their menus, giving parents tours of school kitchens, and putting together before-and-after videos and photo montages of school lunch trays.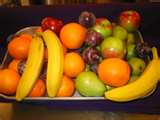 One particularly successful initiative in early trials has been the placement of fresh fruits and easily handled vegetables by school cash registers. The schools that did that found just like junk food in supermarkets, apples, carrots, bananas, and other fresh vegetables and fruits proved popular because of their proximity to the purchase point.
A California school made headlines recently when the cafeteria manager filled a snack cart with fresh fruits and vegetables and rolled it out to the playground during recess. The cart was emptied quickly.
The updated USDA guidelines are part of the Let's Move! campaign, championed by First Lady Michelle Obama, to reduce childhood obesity. The Let's Move! campaign began in earnest with the 2010 Healthy, Hunger-free Kids Act and continued with a shift last year from the long-standing Food Pyramid to the new version, MyPlate.
Custom Search

Social Studies
for Kids
copyright 2002-2014,
David White
---