NYC Rolls Out Signs for Pedestrians
---
June 25, 2013
New York City will install a number of signs to help pedestrians gain their bearings and more easily plan their destinations.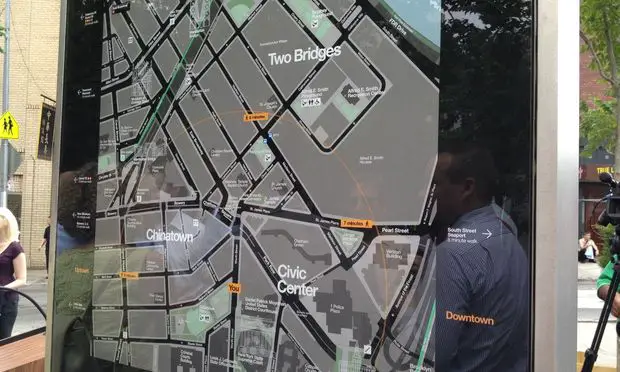 The WalkNYC signs will start going up soon, with the first 100 to appear in Manhattan, Queens, and Brooklyn this summer and Staten Island and the Bronx to follow a bit later.
The signs, which will be 8-and-one-half feet high and from 18 to 50 inches wide, will appear on street corners, near landmarks, in subway stations, and along some bus routes. On the signs will be maps of the surrounding neighborhood (including neighborhood names), showing parks, museums, and other landmarks, as well as the locations of nearby subway stations. Estimated walking times to certain sites will be included as well.
The signs will also show which compass direction pedestrians are facing while they're reading signs. (A recent survey found that many New York pedestrians knew neither which borough they were in nor which way was north.)
The city said that the budget for the project was $6 million and that the Federal Government would be paying 80 percent of the tab. City officials also said that they expected the installation of the signs to result in higher revenues for the city, in that pedestrians who can find their way to the city sites would be more likely to spend their money at those sites.
The maps will be similar to those already in place at the hundreds of Citi Bike kiosks around Manhattan and Brooklyn.