3-D Printing the Future of Teddy Bears?
---
May 4, 2014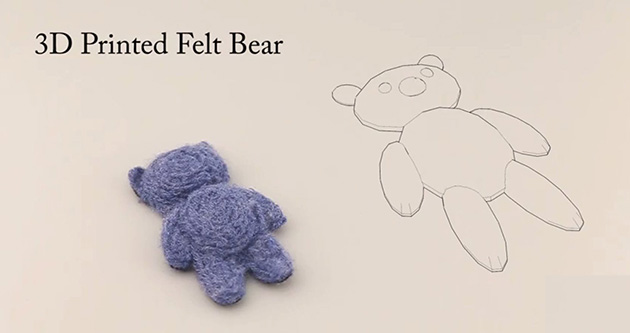 The teddy bear in the picture above is a new-generation creation. It was printed with a 3-D printer.
The printer is called a felting printer, and it was developed by Scott Hudson, a Carnegie Mellon professor, along with Disney Research Pittsburgh. The felting printer uses needles to push through yarn, creating the layers that make up the bear-like doll. Officials liken the process to a 3-D sewing machine.
With the advent of 3-D printing, creating such things as a teddy bear or a building or even food is less labor-intensive than it used to be.
The prototype suffers from the problem of very flexible layers, meaning that the bear can be pulled part rather easily. Hudson and others are already working on an improvement, which might include an adhesive that is flexible enough to sustain exposure to the wear and tear that is normal for such bears.
Future applications of such a printer could be to print hats, scarves, and other types of clothing and, of course, other yarn-based toys.
Custom Search

Social Studies
for Kids
copyright 2002-2014,
David White
---