---
Olympic Tickets Unveiled as Torch Relay Progresses

On This Site
Share This Page

---
Follow This Site



May 21, 2016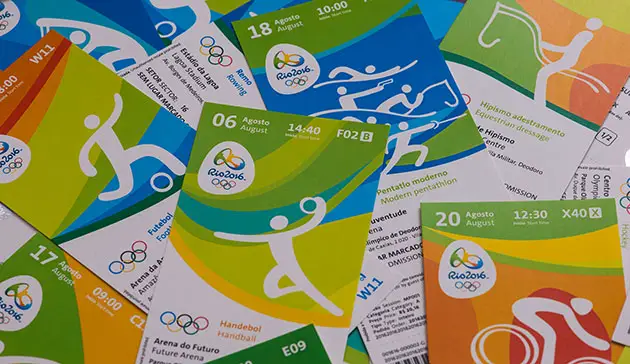 Organizers of the 2016 Summer Olympic Games have taken the wraps off the design for tickets. Each sport's tickets will have a unique logo.
Tickets will go on sale on May 26.
Organizers said that their designers had been working for nearly 18 months on the designs.
Meanwhile, work continues on making the city of Rio de Janeiro and other Brazilian cities and venues ready for the July Olympics.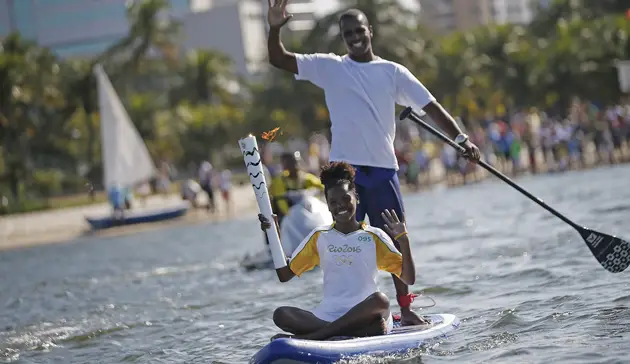 And, the Olympic Torch is in Brazil, after the traditional lighting in Olympia, Greece, home of the ancient Olympics.

Torchbearers have run, as is tradition, but have also found novel ways to carry torch, including by dancing, by sailing, and by paddling, as in paddleboat (right).

On the 95-day tour of Brazil, about 12,000 torchbearers will carry the Torch through hundreds of cities and towns, covering 20,000 kilometers (12,427 miles) by road and 16,000 kilometers (9,941 miles) by air. In the end, the Torch will pass through about 90 percent of South America's largest country.

The Torch will end up on August 5 in Maracana Stadium, for the Opening Ceremonies. That stadium was the setting for the final of the 2014 Soccer World Cup.

The Closing Ceremonies will be on August 21. In between, 306 events encompassing 41 disciplines and 28 sports will take place.

The city of Rio de Janeiro will have 35 competition venues. Most events will take place in Barra da Tijuca. Other neighborhoods hosting events will be Copacabana and Deodoro.