November 22, 2015
The course is now in place, so golf can make its return to Olympics.
The Rio de Janeiro city government presented the Rio 2016 Olympic Golf Course at a special in Barra da Tijuca, near the main Olympic Park and the athletes village. Olympic mascot Vinicius (left) took the ceremonial first shot on the newly unveiled course.
The brainchild of course designer American Gil Hanse, the golf course will include two artificial lakes and (of course) numerous sand bunkers. City officials pointed out that the course would be a top venue for professsionals and also would remain open to the public once the Olympic Games had finished.
An army of workers planted about 650,000 seedlings in the area to increase vegetation on what had been a relatively desolate area. City officials said that the "green" effort was one of the largest to take place in Brazil.
The Rio golf event will run August 11-20, with the men's competition running the first four days and the women's competition running the last four days. A three-hole playoff will resolve any ties for any of the medal positions.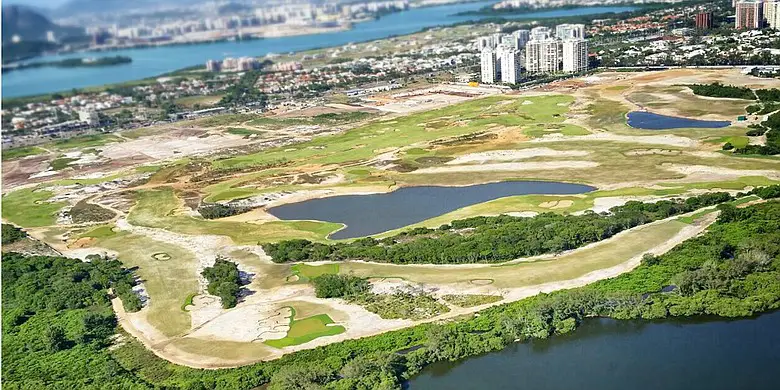 Expected to compete are 60 men and 60 women from countries around the world. Competitors will play four rounds. The top 15 ranked players of each gender automatically qualify; the remaining spots will be filled by the highest-ranked golfers from countries not already represented by two players. The International Golf Foundation has vowed to include at least one player from Brazil and one player from each geographical region. (Regions are Africa, the Americas, Asia, Europe, and Oceania.)
St. Louis in 1904 was the last Summer Olympics to feature golf. In that year, a total of 77 men from Canada and teh United States competed. George Lyon of Canada won the Gold Medal. American Chandler Egan of the U.S. won the Silver. Tying for third and both winning a Bronze Medal were Americans Burt McKinnie and Francis Newton.
The 1904 Olympic golf competition also featured a team event. All three medals went to American teams. The order of placing was the Western Golf Association, the Trans-Mississippi Golf Association, and the United States Golf Association. Individual Silver Medalist Chandler Egan was a member of the Gold Medal-winning team. Individual Bronze Medalists McKinnie and Newton were members of the Trans-Mississippi Golf Association.
Olympic officials voted in 2009 to add the sport back into the Games roster.