---
Democratic Convention in Spotlight in Philadelphia

On This Site
Share This Page

---
Follow This Site



July 24, 2016
The Democratic National Convention will run July 25–28, 2016, in Philadelphia.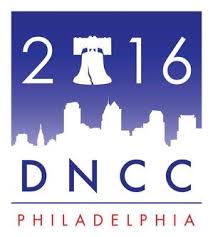 A total of 4,769 delegates will be on hand, and one of their primary responsibilities is to cast a vote for the presidential nominee. As a result of the the primaries and caucuses, Hillary Clinton can expect the pledged support of more than the 2,383 needed to gain a majority. Clinton's primary-caucus vote total was 2,202. Her main challenger, Bernie Sanders, gained the pledged support of 1,829 delegates. Adding in the support of superdelegates, party officials say that Clinton's total will be close to 2,800 and that Sanders' total will be close to 1,900. Exact figures will be revealed on the night.
Democratic Party officials will also have high-powered council meetings and approve the party's platform, the issues that its leaders and members think are important to pursue legislatively in the coming months.
The speaking lineup for the four-day convention features some famous names, including President Barack Obama, First Lady Michelle Obama, Vice-president Joe Biden, former President Bill Clinton, and Sanders. A large number of other current U.S. Representatives and Senators and state Governors will also speak.