Russian Olympics Officials Reveal Snow Stockpile
---
December 4, 2013
Russia has been stockpiling snow.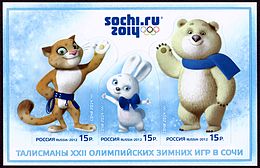 Organizers of the 2014 Winter Olympics, in Sochi, Russia, have stored 500,000 cubic meters of snow, enough to fill 200 Olympic-sized swimming pools. The organizers envision the snow stash as a backup, in case the winter doesn't provide enough snow or the planned snowmaking machines don't deliver.
Olympics officials covered the massive mound of snow with special insulated blankets, keeping the temperature cool enough to maintain the snow's consistency. The officials pointed out that some areas had snowfall that was less than expected in 2012-2013.
Organizers of the previous Winter Olympics, in Vancouver, Canada, had to import snow
The Sochi Winter Olympics run February 7-23.
Custom Search
Social Studies for Kids
copyright 2002-2014,
David White
---