Fans to Choose New Monopoly Token
---
January 13, 2013
The lineup of Monopoly tokens will change, and the public will have something to say about it.
Hasbro, makers of the iconic property accumulation game, have announced that it will replace one of the game's iconic playing tokens, the ones that represent players as they move around the board. Online voting will continue until February 5, after which the announcement will be made.
The current set of tokens contains the following:
car
dog
hat
iron
ship
thimble
wheelbarrow.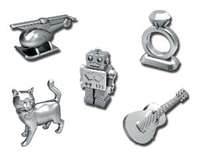 Voters can choose between these new tokens:
cat
diamond ring
guitar
helicopter
robot.
Future editions of the Monopoly will include six of the original tokens and one new one, as chosen by the public. Hasbro has announced that it will also release a special edition of the game containing 12 tokens, the seven current ones and all of the five new choices.
Voting is taking place on the Monopoly Facebook page.
This will not be the first time that the company has changed the player tokens. The original set included a lantern, a rocking horse, and a purse. Other "retired" tokens include a train and a man on horseback.
Monopoly has many specific editions as well, with different tokens to suit the specific scene.