Snowy Storm Covers Most of Atlantic Ocean
---
March 31, 2013
The weather system that spawned a huge blizzard that blanketed much of the U.S. and Canada recently is now even larger, covering most of the Atlantic Ocean, according to the National Weather Service.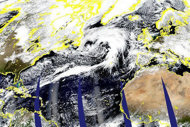 The storm, which dumped snow on 44 of the 50 U.S. states, merged with a few low-pressure systems in the western Atlantic, along with a combination of Gulf Stream-powered warm moisture and freezing winds from the far north. And, unlike other storms, this one hit an oceanic high-pressure system that stalled its progress eastward, creating a much stronger and larger storm than would otherwise have been.
The result was a massive system that morphed into a fast-spinning storm the equivalent of a Category 1 hurricane.
Atlantic Ocean storm-seeking devices have reported that the storm has created waves up to 42 feet high. Ocean-wide radar systems reported seeing the storm tailing from as far north as eastern Canada and as far south as Spain, with most of the North Atlantic covered as a result.
European storm-watchers predicted, however, that the storm would dissipate a bit before it hit western Europe, along about the time that snow back in the U.S. was close to being melted fully.
Custom Search
Social Studies
for Kids
copyright 2002-2014,
David White
---