Ride on: First Venue Complete for London Olympics
---
February 21, 2011 The London Olympics has announced that the first sporting venue is complete and ready to go for the 2012 Games. That honor goes to the velodrome, the cycling arena that has 6,000 seats and is what British fans hopes is a world record-setting track that is friendly to the home country's squad.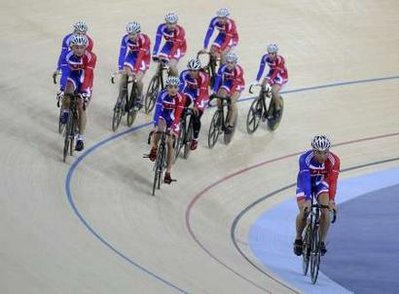 Those racing for the Union Jack certainly had lots of success in Beijing, winning seven gold medals. Britain's Chris Hoy, who won three golds in 2008 and one in 2004, tested out the London track and pronounced it very fast indeed. Hoy and the rest of the team rode a few rounds for a handful of media and other interested parties. Also in the mix was Victoria Pendleton, who won gold in Beijing.

Construction on the venue began in March 2009. The track contains 350,000 nails holding in place 35 miles of timber. The sweeping roof and dedicated environmental conditions should help cyclists set world records, Hoy and others said.

Work continued on many other buildings, including the main stadium, which will have 80,000 seats.

The Opening Ceremonies, on July 27, and the Closing Ceremonies, on August 12, will bookend a total of 302 medal events in 26 sports. The full schedule is here.

Social Studies
for Kids
copyright 2002-2014,
David White
---