Olympics Traffic Lanes Open around London
---
July 15, 2012
Games Lanes are now open. The lanes, marked by paint featuring the familiar motif of the Olympics rings, extend for 30 miles in and around London.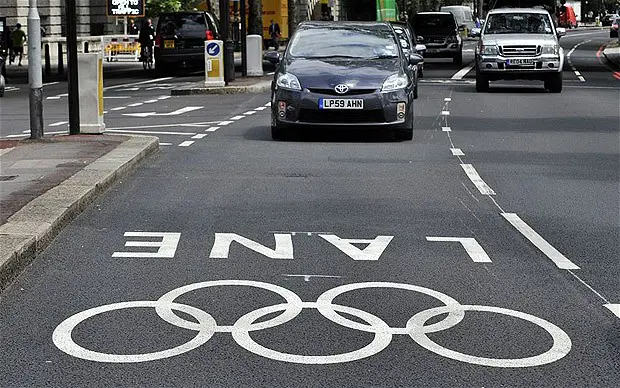 The lanes, officially known as the Olympic Route Network (ORN), provided dedicated road links between sporting venues, accommodation centers, and transport hubs.
Olympics organizers are expecting up to one million extra travelers every day during this year's Olympic Games. Most travelers will be encouraged to take public transportation.
Hours for the Games Lanes are from 6 a.m. to midnight. Traffic officials said that the Games Lanes would be available to regular traffic if demands on the road system were too great or if venues were not in use on a particular day.
The Games Lanes will be in operation until August 14, two days after the Closing Ceremonies. A smaller version, the Paralympic Route Network (PRN), will be in operation from August 29 to September 11.
The Games run from July 27 to August 12.
The Opening Ceremonies, on July 27, and the Closing Ceremonies, on August 12, will bookend a total of 302 medal events in 26 sports. The full schedule is here.