2012 London Olympics Reveal Mascots
---
May 19, 2010


Organizers of the 2012 Summer Olympics have revealed the mascots for the London Games. They are metallic, one-eyed creatures designed to emphasize the host country's role in the emergence of the modern Olympic Games.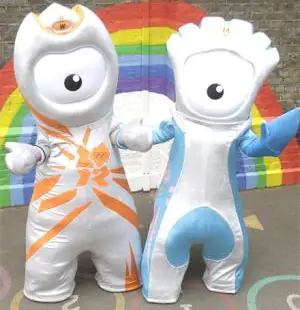 The organizers, including running legend Sebastian Coe, chairman of the London Organizing Committee, consulted 40 groups of children of all ages in their pursuit of a design. The result is a pair of inspirational figures aimed at being children's friends throughout the period leading up to the 2012 Olympics, as well as during the Games themselves.

The mascots are named Wenlock and Mandeville. Each has one giant eye, signifying a camera lens, and that's the extent of the facial features.

Wenlock, the one with the orange stripes, is named for the town Much Wenlock, where Pierre de Coubertin, the inventor of the modern Olympic Games, had the idea. He was visiting Much Wenlock in 1890 and got the idea for the worldwide event after seeing games put on by the town's residents. On Wenlock's head is an orange light, meant to look like the lights to be found on top of London taxis.

Mandeville, the blue one, is named for the town Stoke Mandeville, where, in the 1940s, the Paralympic movement began. (The Paralympics follow the Olympics, in the same city, by a few weeks.)

The mascots were introduced to the world in a short animated film, in a story written by Michael Morpurgo, the well-known author of the children's books Private Peaceful and The Wreck of the Zanzibar. In the film, the mascots take shape from drops of molten steel at the plant where the foundation for the main stadium was made. A steelworker makes the drops of steel into figurines and places them in a window, where a rainbow shines on them and brings them to life. Then, they're off.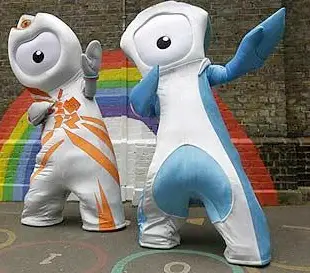 (That's the Usain Bolt pose, by the way.)
In other news on the 2012 Summer Olympics:
London Mayor Boris Johnson has announced plans for the city to become 100 percent WiFi-enabled by the time the Games start. Workers are soon to start installing thousands of Wi-Fi hotspots in street lights and bus stops, to create a citywide wireless network for Internet access. This will benefit people in London for the Olympics, but it will also be a plus for London residents, who are hoping that the pricing details yet to be announced don't include a high fee to cover the costs of all that construction.
The London Organizing Committee of the Olympic Games has announced that it intends to conduct 5,000 drug tests at the Olympics and 1,200 drug tests at the Paralympics. This would exceed the 3,667 drug tests carried out in 2008 in Beijing.

Social Studies
for Kids
copyright 2002-2014,
David White
---