Olympic Flame Begins Journey to London
---
May 11, 2012
The Olympic Torch Relay has begun.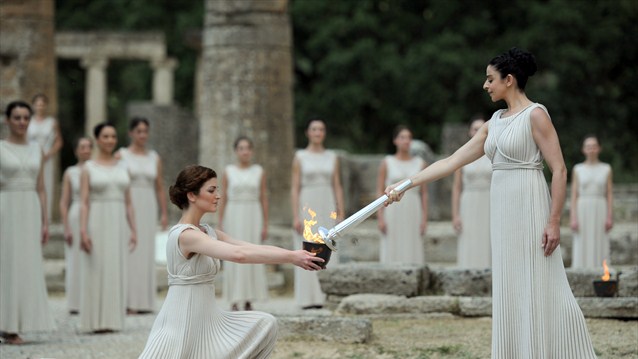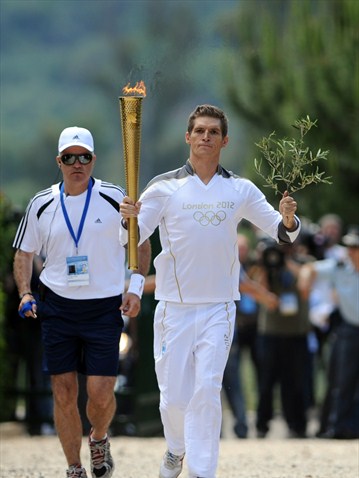 At the Temple of Hera at Olympia, site and namesake of the ancient Olympics, an actress dressed as a high priestess used a mirror to transfer the Sun's rays into a flame, lighting the Olympic Torch. The priestess, after an invocation to Apollo, then handed the Torch to a Greek swimmer and silver medalist, Liverpool-born Spyros Gianniotis, who is one of nearly 500 Greek torchbearers who will carry the Flame over nearly 1,800 miles of Greek soil during the next week.
On May 17, the last Greek torchbearer will deliver the Torch to Panathenian Stadium in Athens, site of the first modern Olympic Games, in 1896. Then, it's off to the United Kingdom, host country for this year's Olympics. The U.K. relay will cover 8,000 miles of the country, leaving its borders only once, to go to Ireland on June 6.
Among those at the ceremony were Sebastian Coe, lead organizer of the London Games, and International Olympic Committee President Jacques Rogge, who will retire from that post next year. He was made an honorary citizen of Ancient Olympia.
The Olympic Torch was first lit in modern times at the 1928 Games, in Amsterdam. The first Torch Relay took place in 1936, ending at the Berlin Olympics.
This year's Torch is triangular, to signify London's third time hosting the Olympics. Games took place there in 1908 and 1948.
The Olympic Games run from July 27 to August 12.

Social Studies
for Kids
copyright 2002-2014,
David White
---