Frigid Europe Suffers from Frozen Roads, Rivers
---
February 12, 2012
In one of the coldest winters in recent memory, Europe continues to shiver and struggle, with deaths increasing, road and rail closings frequent, and more bad weather to come.
The continent-wide death toll was nearly 170. Ukraine has suffered the most, with 135 confirmed dead so far and frigid temperatures due to continue for at least another week. Serbia's blizzard-related dead numbered 20, and about 11,000 in that country remained cut off from the rest of civilization.

People in up to 300 towns and villages in Bulgaria were without electricity. Roads were closed, as were border checkpoints with neighboring Romania and Turkey. All was not frozen in the country, making it worse as snowmelt created flooding that broke through dam walls and inundated some villages, in some cases washing away cars and killing their drivers.

Weather officials warned that such results could be quite common in a few weeks, when the higher-than-normal snow levels recede, leaving behind what could be historic floodwaters.

The without-power situation was common in other Eastern European countries, including Romania, which suffered blizzards that shut down about 150 towns and villages.

Snow-removal operations involved hundreds of bulldozers and a few helicopters, as rescue workers struggled to clear roads and byways ahead of another expected blizzard.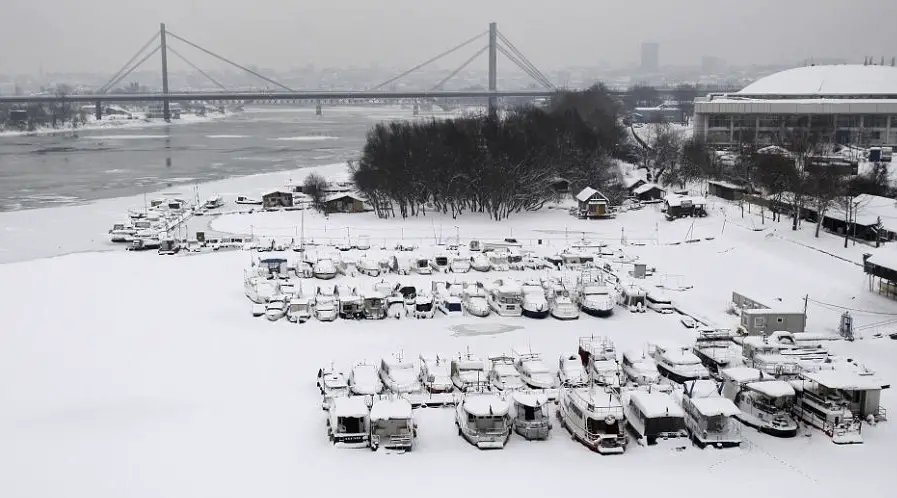 Road was not the only transportation method affected. A few Black Sea ports have been closed, and reports of freezing along the Danube River and in Venice astounded observers and befuddled residents, resulting in closure of commerce and travel arteries. The frozen Danube, especially, has worried business-owners and workers in Austria, Slovakia, Germany, Hungary, Croatia, Serbia, Bulgaria, Romania, and Ukraine. With the river not navigable in certain sections, some economic experts have estimated business losses in the millions of euros.

---

Social Studies
for Kids
copyright 2002-2014,
David White
---