Torrent of Storms Knocks Out Power at U.S. Nuclear Plant
---
April 28, 2011
The powerhouse storms that ripped through the southern United States recently knocked out power to the country's second-biggest nuclear power plant, but no Fukushima-like meltdown occurred because the plant's backup power systems came online and kept the nuclear fuel cool — something that didn't happen in Japan.

The 9.0-magnitude earthquake that rocked northeastern Honshu on March 11 wiped out all manner of protection systems surrounding the Fukushima Dai-ichi Nuclear Power Plant, including steel walls, backup systems, and containment systems. The Browns Ferry plant, however, a three-reactor plant in Alabama, suffered no such fate, largely because the storm damage was nowhere near as bad as the earthquake damage.

Still, Browns Ferry officials were worried because the Alabama plant's reactors were similar to those found in the Fukushima plant. Officials were monitoring the situation closely, as power plant workers endeavored to get primary power back online. The backup power, provided by diesel generators, had been sufficient to keep the reactors cool, officials said. The plant was expected to be closed for days if not weeks.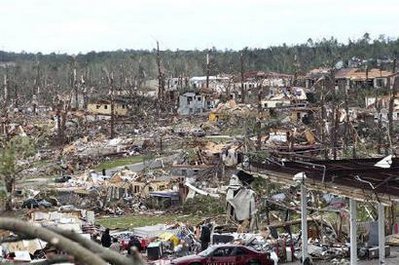 More than 300 people died in the series of thunderstorms and tornadoes that cascaded across seven states, ripping apart vehicles and buildings, and downing large numbers of power lines. It was the deadliest day of tornadoes in the U.S. in nearly 40 years.

Thunderstorms battered the wider area as well, creating large-scale flooding that forced thousands of people from their homes. An estimated 300,000 homes and businesses were initially without power, stemming from both kinds of storms. People huddled in temporary shelters as they waited for assistance.

The storms, with tornadoes numbering more than 160, flattened wide swathes of towns and caused billions of dollars of damage. One tornado estimated to be one mile wide ripped through Tuscaloosa, Ala., and was thought to be the largest such storm to ever hit the state.

The governors of Alabama, Arkansas, Mississippi, Tennessee and Virginia declared states of emergency.

Sponsor

Social Studies
for Kids
copyright 2002-2011,
David White
---