$100 Bill Goes High-tech
---
April 22, 2010
The latest from the Bureau of Engraving and Printing really is all about the Benjamins.

In a new attempt to outwit counterfeiters, the Bureau has redesigned the $100 bill to include several high-tech foils, among them a disappearing Liberty Bell in a inkwell that changes color when tilted.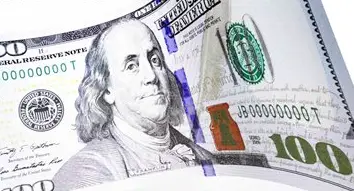 The new bills won't see the light of day until Feb. 10, 2011, but U.S. Government officials are already touting the blue security ribbon made up of thousands of magnifying lenses that change in appearance depending on movements and perspective as the next big thing in preventing production of forgeries of the venerable $100 bill, the most identified target of counterfeiters outside the U.S. (By contrast, counterfeiters operating inside the U.S. most prefer the $20 bill.)

Estimates are that about 6.5 billion of the current design $100 bills are in circulation around the world. These bill will still be accepted as currency, the Government said.

Benjamin Franklin will remain on the front, and Philadelphia's Independence Hall will remain on the back. What will change, however, is the aforementioned blue security ribbon, which will, through the use of 3-D technology, appear to change little bells into little 100s and also appear to move the images from side to side or up and down.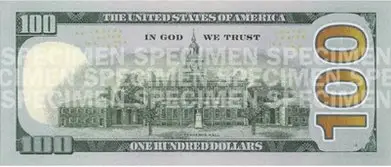 The makeover of the $100 bill is the last step in what has become a seven-year revision of all but one of the U.S.'s major paper currencies. In order, the $20, $50, $10 and $5 bills have been revised since 2003. The Government has no plans to revise the $1 or the $2 bill.
Click here for more.

Social Studies
for Kids
copyright 2002-2014,
David White
---