Flat Stanley Makes Political Rounds
---
Flat Stanley really gets around. The paper-thin fictional character has found his way around the world a great many times. Students send him on all sorts of adventures. (Click here for more on the Flat Stanley Project.)

His latest trips have taken him into the hallowed halls of American government, including into the hands of the President himself.
Flat Stanley also made it to visit Secretary of State Condoleeza Rice ...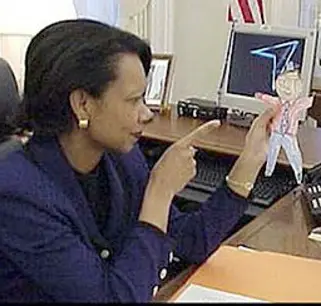 and both candidates for California's 2006 governor's race, incumbent Arnold Schwarzenegger and challenger Phil Angelides.
Where will Flat Stanley show up next? Who knows?
---

Social Studies for Kids copyright
2002-6,
David White
---