Flat Stanley in Carmel, California
---
Part 1: Fun With Flat Stanley
The Flat Stanley Project is something that teachers and students look forward to all over the United States and Canada. Each year, the paper travelers go to familiar or exotic places in search of new adventures. It's all creative and fun.
One teacher who enjoys doing the Flat Stanley Project is Sylvia Ishii, who teaches second grade and the Stevenson Lower and Middle School in Carmel, California. This school year, Ishii's students jumped right in to the Flat Stanley Project, sending "Stanley" or "Britny" or whatever they wanted to call their two-dimensional friends to family and friends. And those family and friends responded in very creative ways, from the ordinary to the extraordinary. When "Stanley," "Britny," and the rest of the "Flat"s returned, they had a great many stories to tell.
Here are some of them:
Yo! Ari Gross sent his flat friend Stanley to family friends Monika and Alan Campbell in San Jose, California. The Campbells took Stanley to a flea market, a place where people sell things for very little money. In many cases, the people who sell things at flea markets want to get rid of things they no longer want; also in many cases, people who attend flea markets are looking to buy things at very low prices. Many times, these two kinds of people do business together.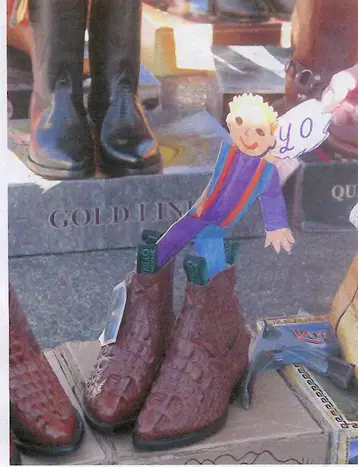 The Campbells looked for something for Stanley, but they couldn't find quite the right thing. They thought he might fit in a pair of boots, but that didn't work. The boots were a little too big. They thought that Stanley needed a nice pair of sunglasses, so they looked at a bunch of those, too. But as with the boots, the sunglasses were just a little bit too big.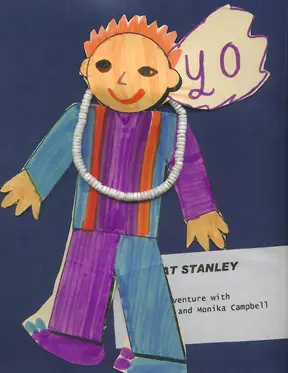 The Campbells scored big time, however, when they found a necklace made of puka shells. (Puka shells are from Hawaii.) This necklace proved to be just the right thing for Stanley. (It was also, as it turns out, just the right size. Unlike the sunglasses and the boots, both of which were much too big for Stanley to wear properly, this necklace was just the right size.
The shells (on the necklace, of course) came back with Stanley to Ari, and the picture tells the story. Flat Stanley, puka shells around his neck, tells the whole story in Ari's project.
Anthony Davi sent his Flat Stanley to Stacey Wise in Newark, Ohio. Stacey used to be Anthony's nanny. She just moved to Ohio.
Anthony's Stanley had many fun adventures in Ohio. Among the highlights were a visit with a baby (who was still a bit bigger than Stanley), the family dog (who was a lot bigger than Stanley) and a visit to a theater in Ohio, where Stanley got to sit in Big Bird's lap.
| | |
| --- | --- |
| | |
---

Social Studies for Kids copyright
2002-6,
David White
---